made in


XON Electronics
www.xonelectronics.it
Ministep
Stepper drive 12-34V 3A, with I/O and RS-485

See this page in Italian language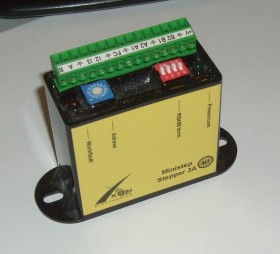 Bipolar stepper drive, with high-level commands via RS-485
Makes it possible to control a stepper motor from a PLC or (mini-)computer, even using interpreted/scripting languages. The RS485 can connect several modules (stepper or I/O) on the same line, even at great distance. This drive also supports Step/Direction signals.
Buy Ministep online in the e-commerce site of Xon Electronics
Product description
Ministep is a bipolar stepper motor drive with advanced commands for positioning and I/O reading. Several features make this module special, such as compact size, Modbus or simple and easy text protocols on the RS-485, special functions on the I/O pins. The device is configured through dip-switches and RS-485 interface, and can store its settings into the internal non-volatile flash memory. Once configured, it can work using solely Step/Direction signals, without RS485 connection. The I/Os (3 inputs and 1 output) permit different applications, for example a limit switch or other equipment; it is also possible to interface a quadrature encoder (readable via RS-485) to implement a closed-loop system.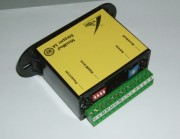 (Click to enlarge)
Typical applications
Stepper motor control, possibly in combination with other modules on the same bus (Ministep, Minimod...), in the automation/robotics field.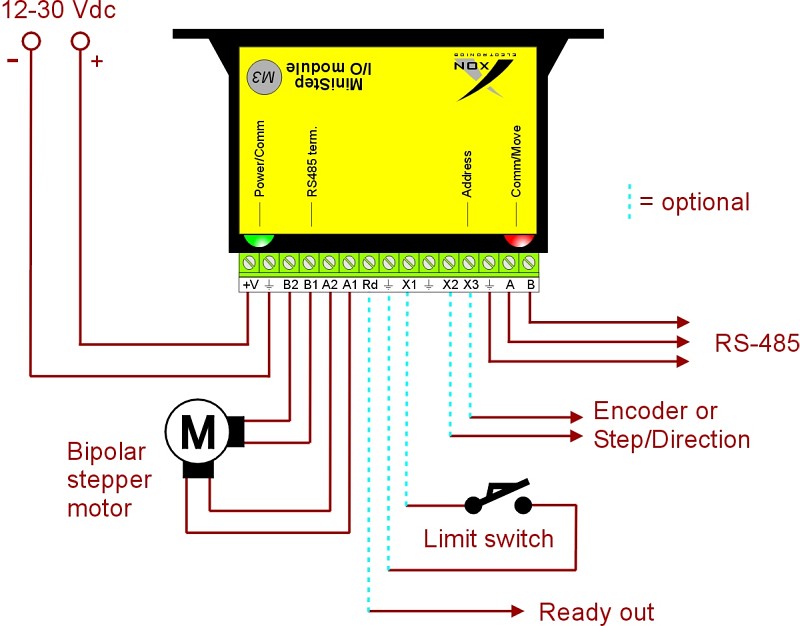 (Click to zoom)
Technical details
Power supply from 12 to 34 volts D.C.
Driving current up to 3A continuous, (6A peak)
Full step, half step, microstepping up to 1/16
Configurable currents for stop, run, acceleration and deceleration
Configurable speed profiles
Commands for absolute/relative positioning, and other advanced functions
3 digital inputs for general purpose I/O, limit switch, encoder, Step/Dir signals; 1 output (Ready/Busy)
Settings configurable via rotary selector, dip-switches, internal flash memory
RS-485 interface with 2 protocols: Modbus, or simple text commands
Internal watch-dog for safety and reliability
2 status LEDs
Electronic circuit embedded in resin, in plstic container with fixing holes
Extractable terminal block
Other features
The inputs (0-34V) can be used in several ways:
all are readable via serial line, and have an associated counter
FC can be used for a limit switch, to perform accurate zeros (reset)
I2 and I3 can be used as Step/Direction signals
I2 and I3 can be used to connect an incremental encoder
The Modbus protocol is an effective and well-known industrial standard, yet easy to implement. Alternatively, the simple text protocol can be used, which is even easier to manage with any computer, even very small.
Specifications
Power supply:
from 12 to 34 volts DC
Current consumption:

100 mA (the device itself), 3.1A total (up to 6.4A peak)

Working temperature:
from -10 to +50° C
Dimensions:
mm 95x110x24
Robust plastic container and resin
Extractable terminal block
---
XON Electronics Srl - P.Iva I-02828930046 - PEC xonelectronics@pec.xonelectronics.it