made in


XON Electronics
www.xonelectronics.it
RE-34
Infrared backlight panel

See this page in Italian language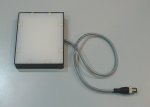 Strong and reliable backlight infrared panel, with strobe control. Optionally, a 0-10V brightness control is available.
8 watts power and black PVC container; opal plexiglass light diffuser. One led on the front is red, allowing to easily see whether the panel is powered.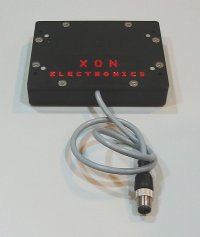 Product description
Infrared backlight panel, suitable for industrial purposes, with strobe control and optional 0-10V brightness control.
The case is made of black PVC mounted on a aluminum plate, with screwed holes for fixing.
The front panel is a semi-opaque opal plexiglass which diffuses the light.
Typical applications
Process and/or quality control: the RE-34 is used in combination with an infrared camera to take pictures in real-time, which are then processed. Gathered data can be saved for documentation purposes, or used in real-time for process control.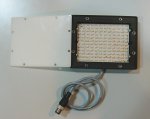 Product details
The strong point about this device is the great efficiency in LEDs driving. This fact lets the device work continuously without over-heating, so the overall reliability is improved.
Light is emitted by a 144 infrared LED 24x6 matrix, driven at constant current.
The connection cable is available in different lenghts, and is terminated with a 4-poles M-12 connector.
The device can be mounted using 4 blind, screwed holes.
Tecnical data
Power supply:
+24V DC, 300 mA
Maximal power:
8 W
Light wave length:
940 nm
Dimensions:
mm 128 x 102 x 27h
Weight:
380 g
Case:
Polished black PVC on black aluminum basement, opalin plexiglass screen
Protection degree:
IP45
Temperature range:
-10 to +60 °C
Maximum working humidity:
90% (relative)
Red signalling LED for "power present" on the top-left side of the screen
---
XON Electronics Srl - P.Iva I-02828930046 - PEC xonelectronics@pec.xonelectronics.it